Patternodes 3 in development
Updated January 13, 2022
The next generation of Patternodes, Patternodes 3, is now in beta testing. There's no set release date set yet, but it will probably be early 2022. You can download and purchase the current version here Patternodes 2.
Some new features planned in Patternodes 3:
Main changes and new features

Improved animation features. New keyframe-based Animation timeline and new Time Function node for animated noise and repeating functions.
Improved drag editing. Improved support for selecting and editing node parameters by clicking and dragging in the preview.
Redesigned interface. Cleaned up modern interface style with support for dark/light mode and animations.
Improved performance. Rebuilt core components for faster generation and a more responsive interface.
Redesigned dynamic index features. Clarified system for generating dynamic input to nodes.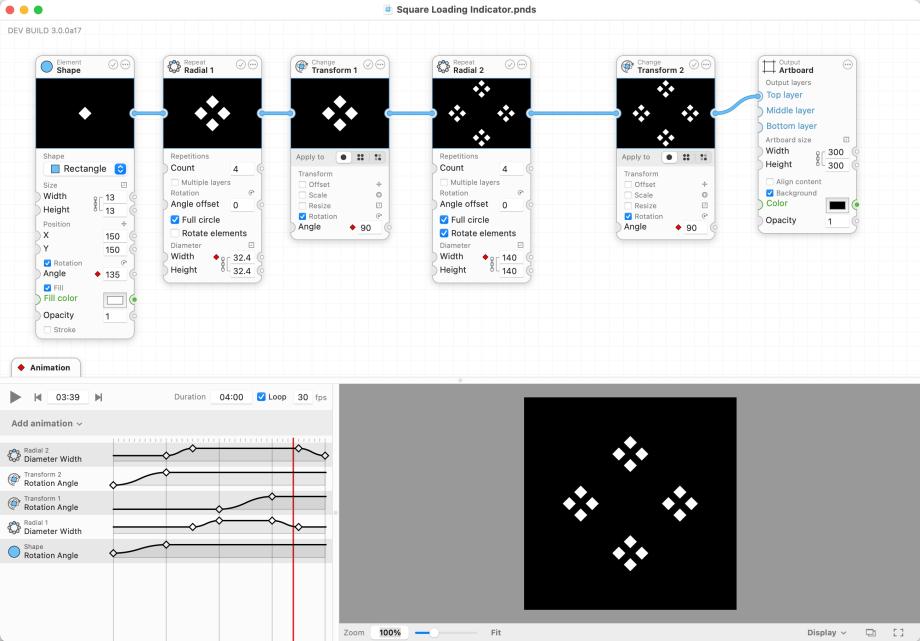 Additional changes and improvements

New Animation timeline panel with system for animating node properties using keyframes and a new timeline view.
New Value Time Function node allowing animated complex noise and repeating value functions.
Improved Repeat Radial node with a new angle offset parameter and 2D diameter size to enable ellipsis repetitions.
Improved parameter pairs allowing variable aspect locks and value change and dynamic connections to either parameter.
Improved built in node reference, now with dynamic demo node and description text.
Improved parameter tooltips and node warnings.
Improved copying and duplicating nodes in and between documents.
Improved Group Apply Function with new reduced index range setting to make it easier to set exact edge transformations based on element index.
Improved Artboard node layer management with new duplicate layer feature.
Added alignment options to the Artboard node, for super easy centering of designs.
Improved drag and drop support for importing graphics files.
Change Transform and Repeat Transform node scale size mode toggle is repaced by separate scale and resize parameters.
The Animation Info node now provides access to animation parameters, but no longer controls them.
Animated Value nodes have been removed, and instead any node parameter can now be directly animated via the Animation timeline.
Element Shape node Circle changed to Ellipse with separate height and width, with optional aspect lock.
Change Color and Apply Graphics now have a color mix parameter to make it easy to gradually apply a color.
The dynamic index functionality has been renamed 'Node index' to be more consistent and easy to understand.
The old generic 'Group index' has been replaced with named node indexes for all applicable Change and Group nodes.
Improved per document display settings controlling selection outlines and artboard repetition display.
Improved Value Round node, with settings for rounding direction and number of decimals.
Updated and replaced old components for future macOS compatibility.
App sandbox for increased security.
Updated to Sparkle 2.0 version checking and updating for increased security.
Patternodes 3 requires macOS 10.14 or later.
All this information is subject to change, and more new features and information will be added here as development continues. As it's still early in the process, this is a good time to submit your ideas or feedback if you want to influence the development process.
You can take part and vote for different ideas for the future development of Patternodes, or submit your own, here:
Patternodes development feature feedback
Release notification
If you want to be notified when Patternodes 3 is released, use the form below to submit your name and e-mail. This information will only be stored and used for this one e-mail release notification and will be deleted after that.
Beta testing
If you're interested in helping out as a beta tester you can check the beta testing box. If you do this you'll be notified when there is a beta build ready for testing and you'll get a beta testing license code. If you complete the testing and report back, this will be converted to a full license when Patternodes 3 is released, so you'll get the new version for free.
Sign up for release notification or to be a beta tester using the field below.